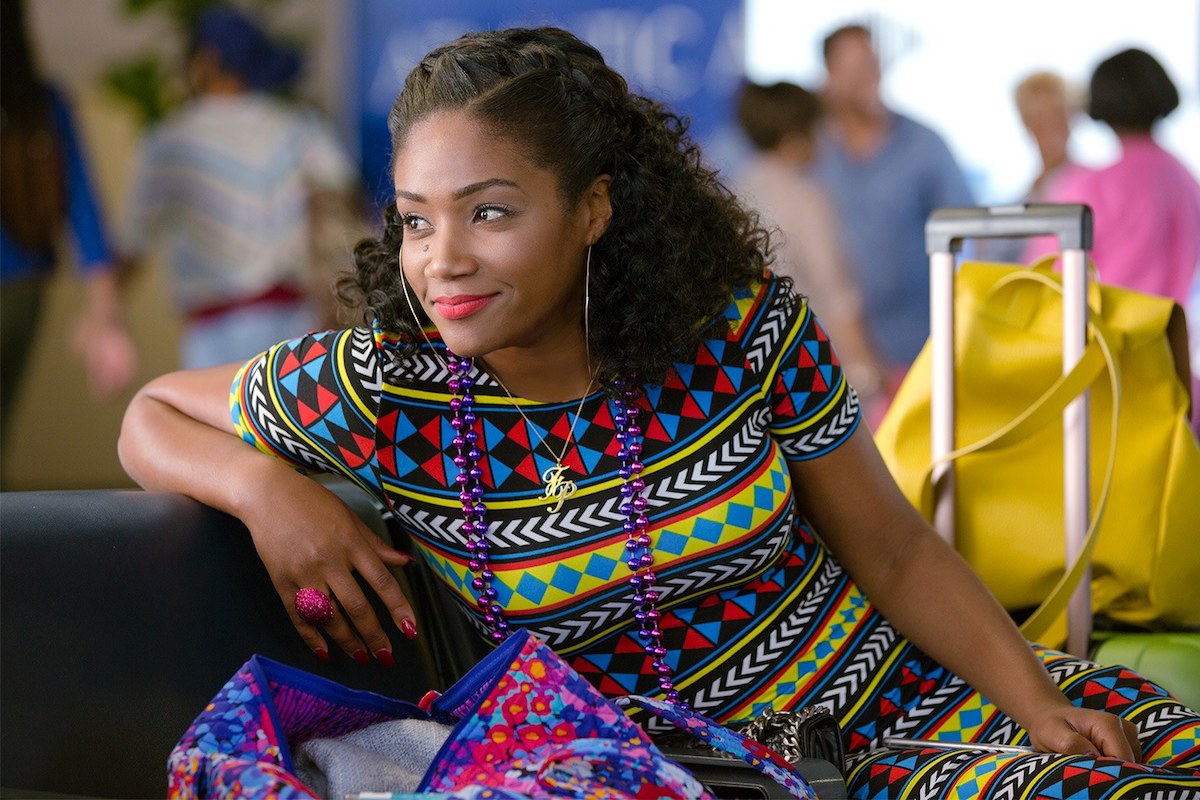 Tam Türkçe bir karşılığı olmadığına inandığım people of color (tabir-i caizse beyaz olmayan herkes) bireylerin buluştuğu NAACP Image Ödülleri'nin bu seneki adayları açıklanmış. 49. kez ödüllerini dağıtmak üzere 15 Ocak'ı bekleyen NAACP'de bir sürü sürpriz var. Ama bunlardan en önemlisi Mudbound'un kısmen görmezden gelinmesi. Her ne kadar yönetmen, senaryo ve bağımsız film dallarında karşımıza çıkıyor olsa da filmin asıl mücevheri oyuncuları iken, tek bir ismin dahi aday edilmemesi… Hele ki siyahilerin meşhur divalarından Mary J. Blige harika eleştiriler alırken Regina Hill'in bile Blige'a tercih edilmiş olması epey garip. Kendi çevreleri bu filme oy vermeyecekse Akademi'den ne bekleyecekler merak ediyorum. Tiffany Haddish'in adını gördüğüm için fazlasıyla mutlu olduğumu ekleyerek sizi aday listesiyle baş başa bırakayım:
FİLM
FİLM
Detroit
Get Out
Girls Trip
Marshall
Roman J. Israel, Esq.
YÖNETMEN
Reginald Hudlin | Marshall
Malcolm D. Lee | Girls Trip
Stella Meghie | Everything, Everything
Jordan Peele | Get Out
Dee Rees | Mudbound
ERKEK OYUNCU
Chadwick Boseman | Marshall
Idris Elba | The Mountain Between Us
Daniel Kaluuya | Get Out
Algee Smith | Detroit
Denzel Washington | Roman J. Israel, Esq.
KADIN OYUNCU
Halle Berry | Kidnap
Danai Gurira | All Eyez on Me
Natalie Paul | Crown Heights
Octavia Spencer | Gifted
Amandla Stenberg | Everything, Everything
YARDIMCI ERKEK OYUNCU
Nnamdi Asomugha | Crown Heights
Sterling K. Brown | Marshall
Idris Elba | Thor: Ragnarok
Laurence Fishburne | Last Flag Flying
Lil Rel Howery | Get Out
YARDIMCI KADIN OYUNCU
Tiffany Haddish | Girls Trip
Regina Hill | Girls Trip
Audra McDonald | Beauty and the Beast
Keesha Sharp | Marshall
Tessa Thompson | Thor: Ragnarok
SENARYO
The Big Sick | Emily V. Gordon, Kumail Nanjiani
Detroit | Mark Boal
Get Out | Jordan Peele
Girls Trip | Kenya Barris, Tracy Oliver
Mudboubd | Dee Rees, Virgil Williams
BAĞIMSIZ FİLM
Detroit
Last Flag Flying
Mudbound
Professor Marston and the Wonder Women
Wind River
BELGESEL
I Called Him Morgan
The Rape of Recy Taylor
STEP
Tell Them We Are Rising: The Story of Black Colleges and Universities
Whose Streets?
TV
DRAMA
Greenleaf
Power
Queen Sugar
This Is Us
Underground
KOMEDİ
Ballers
black-ish
Dear White People
Insecure
Survivor's Remorse
MİNİ DİZİ/TV FİLMİ
Flint
The Immortal Life of Henrietta Lacks
The New Edition Story
Shots Fired
When Love Kills: The Falicia Blakely Story
ERKEK OYUNCU (Drama)
Sterling K. Brown | This Is Us
Mike Colter | Marvel's The Defenders
Omari Hardwick | Power
Terence Howard | Empire
Kofi Siriboe | Queen Sugar
KADIN OYUNCU (Drama)
Viola Davis | How to Get Away with Murder
Taraji P. Henson | Empire
Jurnee Smollett-Bell | Underground
Kerry Washington | Scandal
Rutina Wesley | Empire
ERKEK OYUNCU (Komedi)
Anthony Anderson | black-ish
Aziz Ansari | Master of None
Dwayne Johnson | Ballers
Keegan-Michael Key | Friends from College
RonReaco Lee | Survivor's Remorse
KADIN OYUNCU (Komedi)
Danielle Brooks | Orange Is the New Black
Loretta Devine | The Carmichael Show
Niecy Nash | Claws
Issa Rae | Insecure
Tracee Ellis Ross | black-ish
ERKEK OYUNCU (Mini Dizi/TV Filmi)
Idris Elba | Guerrilla
Laurence Fishburne | Madiba
Bryshere Grey | The New Edition Story
Woody McClain | The New Edition Story
Mack Wilds | Shots Fired
KADIN OYUNCU (Mini Dizi/TV Filmi)
Regina King | American Crime
Sanaa Lathan | Shots Fired
Queen Latifah | Flint
Jill Scott | Flint
Oprah Winfrey | The Immortal Life of Henrietta Lacks
YARDIMCI ERKEK OYUNCU (Drama)
Trai Byers | Empire
Bryshere Gray | Empire
Joe Morten | Scandal
Jussie Smollett | Empire
Dondre Whitfield | Queen Sugar
YARDIMCI KADIN OYUNCU (Drama)
Tina Lifford | Queen Sugar
Naturi Naughton | Power
Susan Kelechi Watson | This Is Us
Lynn Whitfield | Greenleaf
Samira Wiley | The Handmaid's Tale
YARDIMCI ERKEK OYUNCU (Komedi)
Tituss Burgess | Unbreakable Kimmy Schmidt
Jay Ellis | Insecure
Ernie Hudson | Grace and Frankie
Omar Miller | Ballers
John David Washington | Ballers
YARDIMCI KADIN OYUNCU (Komedi)
Uzo Aduba | Orange Is the New Black
Tichina Arnold | Survivor's Remorse
Leslie Jones | Saturday Night Live
Marsai Martin | black-ish
Yvonne Orji | Insecure
YÖNETMEN (Drama)
Jeffrey Byrd | Switched at Birth; "Occupy Truth"
Gina Prince Bythewood | Shots Fired; "Hour One: Pilot"
Jonathan Demme | Shots Fired; "Hour Six: The Fire This Time"
Ernest R. Dickerson | The Deuce; "Show and Prove"
Carl Franklin | 13 Reasons Why; "Tape 5, Side B"
SENARYO (Drama)
Greenleaf; "The Bear" | Erica Anderson
Queen Sugar; "Dream Variations" | Ava DuVernay
Queen Sugar; "What Do I Care for Morning" | Anthony Sparks
Shots Fired; "Hour One: Pilot" | Gina Prince-Bythewood
This Is Us; "Still Here" | Vera Herbert
YÖNETMEN (Komedi)
Anton Cropper | black-ish; "Juneteenth"
Barry Jenkins | Dear White People; "Chapter 5"
Spike Lee | She's Gotta Have It; "#NolasChoice"
Justin Simien | Dear White People; "Chapter 1"
Ken Whittingham | Unbreakable Kimmy Schmidt; "Kimmy Bites an Onion!"
SENARYO (Komedi)
Claws; "Batsh*t" | Janine Barrois
Dear White People; "Chapter 1" | Justin Simien
Insecure; "Hella Great" | Issa Rae
Insecure; "Hella Perspective" | Issa Rae
Master of None; "Thanksgiving" | Aziz Ansari, Lena Waithe
YÖNETMEN (Mini Dizi/TV Filmi)
Mark Ford | Biggie: The Life of Notorious B.I.G.
Kevin Hooks | Madiba; "Night 2"
Allen Hughes | The Defiant Ones
Codie Elaine Oliver | Black Love
Chris Robinson | The New Edition Story; "Night 1"
SENARYO (Mini Dizi/TV Filmi)
An American Girl Story – Ivy & Julie 1976: A Happy Balance | May Chan
An American Girl Story: Summer Camp, Friends for Life | Alison McDonald
The Immortal Life of Henrietta Lacks | Peter Landesman, Alexander Woo, George C. Wolfe
The New Edition Story; "Night Two" | Abdul Williams
When Love Kills: The Falicia Blakely Story | Cas Sigers-Beedles

TALK SHOW
The Daily Show with Trevor Noah
Jimmy Kimmel Live
The Real
Super Soul Sunday
The View
REALITY SHOW
Iyanla: Fix My Life
The Manns
Martha & Snoop's Potluck Dinner Party
Shark Tank
United Shades of America with W. Kamau Bell
VARIETY
Black Girls Rock! 2017
Dave Chappelle: The Age of Spin & Deep in the Heart of Texas
Def Comedy Jam 25
Lip Sync Battle
Saturday Night Live