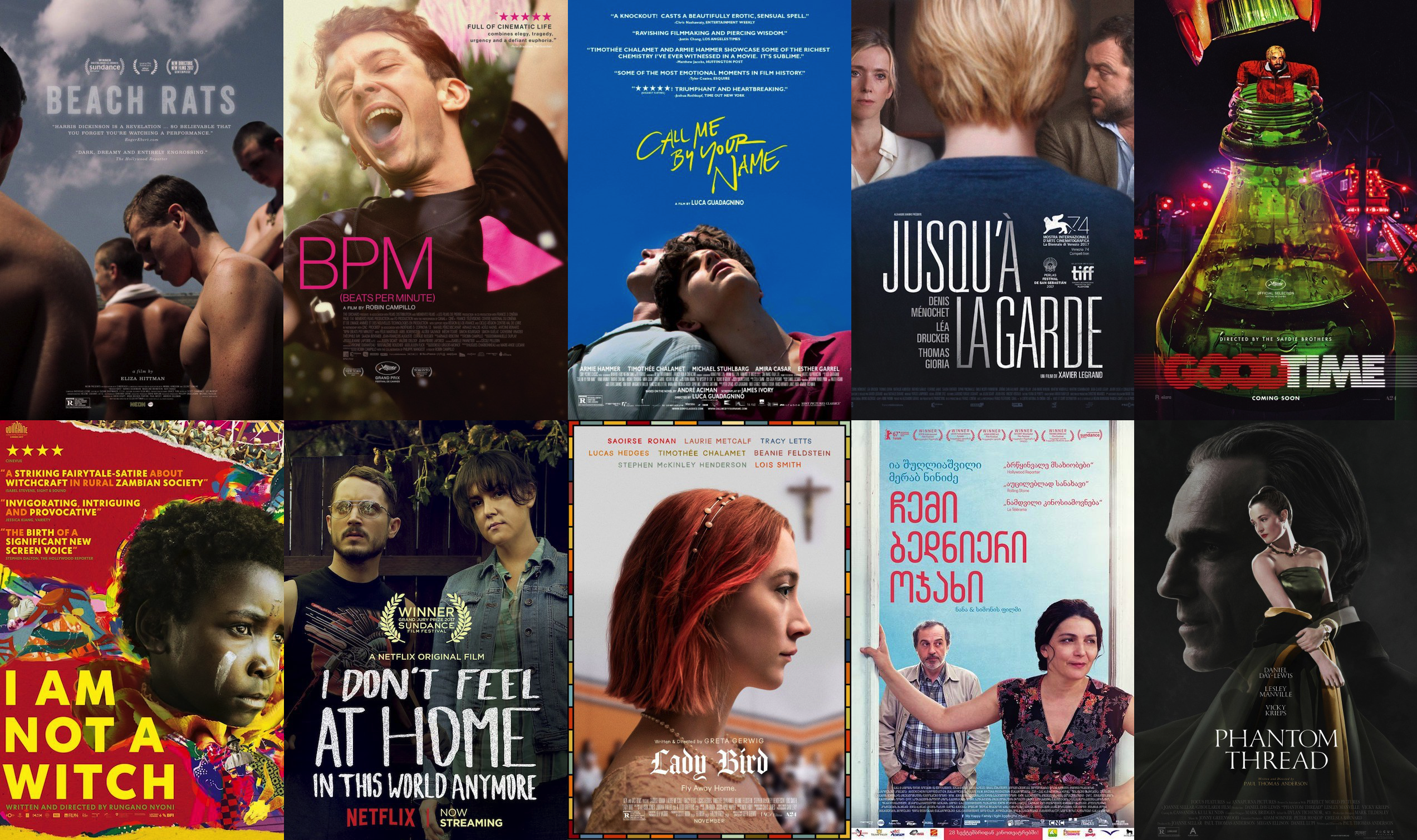 2017'yi takvimde devireli beş hafta oluyor. Fakat sinema yılını kapatmak için ne yazık ki screener tanrılarının sihirli değnekleri ile hayatlarımıza dokunmasını bekledik. Seriyi tamamlamak üzere demirbaşlardan kendime son olarak Phantom Thread'i seçmiş bulunduğum için Paul Thomas Anderson'ın filmi teşrif edene kadar önüme gelen her şeyi tüketerek bir yılı daha rafa kaldırmış oldum böylece. Foxtrot, In the Fade, Film Stars Don't Die in Liverpool gibi eksiklerim sizde kalsın. Ben uzadıkça uzayan, !f adındaki "sözde" film festivalinin de vizyon takvimini katlederek mâni olduğu vedaya tam olarak hazırım artık.
Efendim, 10. yılını tamamlayan Oscar Boy Ödülleri'nin heyecanına hazırlanırken kendi ülkelerinde 2017'de vizyon görmüş 160 film izledim. Ve bu 160 filmden 62'sini 21 kategoriden en az birine yerleştirmeye uygun gördüm. AMPAS ile bambaşka diyarlarda yaşadığımızı söylememe gerek yok artık. Yaş aldıkça benim de film zevklerim pişti ve rayına oturdu. Yani Call Me by Your Name, Lady Bird ve Phantom Thread haricinde tek bir Oscar favorisine rastlayamayacaksınız aşağıda. İsyan edebilirsiniz, haklısınız da. Ama söz hakkı zaten ilerleyen haftalarda Readers' Choice oylamasına geldiğinde sizin olacak. Dolayısıyla Three Billboards, The Shape of Water ve bu ikiliye göre nispeten daha çok sevdiğim Dunkirk'ün sıfır çekmiş olması sinirinize dokunmasın.
Bu yıl birçok ilke de imza attım ayrıca. Mesela En İyi Film adaylarımdan Beach Rats'i sadece bu kategoride ağırlıyorum. My Happy Family, Oscar Boy tarihinde büyük dala girmeyi başarmış ilk Gürcistan yapımı oldu. Ayrıca Hacksaw Ridge'den sonra bir kez daha Akademi'nin pek çok dalda aday ettiği bir yapım benim En Kötü Film ödülüm için yarışıyor olacak. Ve 2009'dan bu yana ilk kez En İyi Animasyon dalıma aday edecek beş kaliteli yapım bulamadığımdan kendimi 3 adayla sınırlandırdım. Kim bilir daha neler vardır daha derin bir istatistik çalışmasına girsem ama şimdilik bu kadarı yetsin.
Sonuçları 14 Şubat'ta açıklayacağım. O güne kadar 2017'nin en iyi 50 filmi, kadın ve erkek ayrı olmak üzere yılın önemli performanslarını farklı başlıklar altında incelemeye almayı planlıyorum. Readers' Choice oylamasını da sizin karar verdiğiniz bir tarihte başlatırız artık. Son olarak hani benim resimli aday listem, görsel istiyorum diyenleri de o baldan tatlı sayfaya yönlendireyim: 10. Oscar Boy Film Ödülleri
Efendim "bana göre" en iyiler için toplanma vakti şimdi. Bol bol dedikodumu yapın, arada buralara yorum bırakmayı unutmayın. Buyursunlar:
EN İYİ FİLM
Beach Rats
BPM (Beats Per Minute)
Call Me by Your Name
Custody
Good Time
I Am Not a Witch
I Don't Feel at Home in This World Anymore
Lady Bird
My Happy Family
Phantom Thread
EN İYİ YÖNETMEN
Paul Thomas Anderson | Phantom Thread
Robin Campillo | BPM (Beats Per Minute)
Greta Gerwig | Lady Bird
Luca Guadagnino | Call Me by Your Name
Benny & Josh Safdie | Good Time
EN İYİ ERKEK OYUNCU
Timothée Chalamet | Call Me by Your Name
Daniel Day-Lewis | Phantom Thread
Jake Johnson | Win It All
James McAvoy | Split
Adam Sandler | The Meyerowitz Stories
EN İYİ KADIN OYUNCU
Sally Hawkins | Maudie
Aubrey Plaza | Ingrid Goes West
Saoirse Ronan | Lady Bird
Ia Shugliashvili | My Happy Family
Kate Winslet | Wonder Wheel
EN İYİ YARDIMCI ERKEK OYUNCU
Daniel Craig | Logan Lucky
Beulah Koale | Thank You for Your Service
Denis Ménochet | Custody
Michael Stuhlbarg | Call Me by Your Name
Miles Teller | Only the Brave
EN İYİ YARDIMCI KADIN OYUNCU
Tiffany Haddish | Girls Trip
Zoe Kazan | The Big Sick
Laurie Metcalf | Lady Bird
Tatiana Maslany | Stronger
Cathy Moriarty | Patti Cake$
EN İYİ ÖZGÜN SENARYO
BPM (Beats Per Minute) | Robin Campillo, Philippe Mangeot
I Am Not a Witch | Rungano Nyoni
Lady Bird | Greta Gerwig
The Meyerowitz Stories | Noah Baumbauch
Phantom Thread | Paul Thomas Anderson
EN İYİ UYARLAMA SENARYO
The Beguiled | Sofia Coppola
Call Me by Your Name | James Ivory
Lady Macbeth | Alice Birch
Last Flag Flying | Richard Linklater
Marjorie Prime | Michael Almereyda
EN İYİ İLK FİLM
Custody | Xavier Legrand
I Am Not a Witch | Rungano Nyoni
I Don't Feel at Home in This World Anymore | Macon Blair
Patti Cake$ | Geremy Jasper
Pieles | Eduardo Casanova
EN İYİ TOPLU PERFORMANS
Aile Arasında
BPM (Beats Per Minute)
Lady Bird
The Meyerowitz Stories
A Quiet Passion
EN İYİ KURGU
Baby Driver | Jonathan Amos, Paul Machliss
Custody | Yorgos Lamprinos
Good Time | Ronald Bronstein, Benny Safdie
Lady Bird | Nick Houy
Personal Shopper | Marion Monnier
EN İYİ GÖRÜNTÜ YÖNETİMİ
Blade Runner 2049 | Roger Deakins
Call Me by Your Name | Sayombhu Mukdeeprom
The Lost City of Z | Darius Khondji
Loveless | Mikhail Krichman
The Wound | Paul Özgür
EN İYİ PRODÜKSİYON TASARIMI
Blade Runner 2049 | Dennis Gassner, Alessandra Querzola
Call Me by Your Name | Samuel Deshors, Sandra Piccarozzi, Violante Visconti di Modrone
Downsizing | Stefania Cella, Patricia Larman
Star Wars: The Last Jedi | Rick Heinrichs, Richard Roberts
Wonderstruck | Mark Friedberg, Debra Schutt
EN İYİ KOSTÜM TASARIMI
Blade of the Immortal | Yûya Maeda
Lady Macbeth | Holly Waddington
Okja | Catherine George, Se-yeon Choi
Phantom Thread | Mark Bridges
Wonder Wheel | Suzy Benzinger
EN İYİ ÖZGÜN MÜZİK
Blade Runner 2049 | Hans Zimmer, Benjamin Wallfisch
BPM (Beats Per Minute) | Arnaud Rebotini
Good Time | Daniel Lopatin
King Arthur: Legend of the Sword | Daniel Pemberton
Loving Vincent | Clint Mansell
EN İYİ ÖZGÜN ŞARKI
"Jump" | Step
"Mystery of Love" | Call Me by Your Name
"PBNJ" | Patti Cake$
"The Pure and the Damned" | Good Time
"Visions of Gideon" | Call Me by Your Name
EN İYİ MAKYAJ & SAÇ TASARIMI
Atomic Blonde
Blade of the Immortal
Guardians of the Galaxy Vol. 2
It
Pieles
EN İYİ GÖRSEL EFEKT
Blade Runner 2049
Only the Brave
Star Wars: The Last Jedi
Thor: Ragnarok
War for the Planet of the Apes
EN İYİ ANİMASYON
The Boss Baby
Coco
The Lego Batman Movie
EN İYİ BELGESEL
I Am Heath Ledger
Icarus
Last Men in Aleppo
One of Us
Ten Meter Tower
EN KÖTÜ FİLM
Contratiempo
Darkest Hour
A Ghost Story
The Insult
mother!
---
Adaylık sayıları (62 film)
9: Call Me by Your Name
7: Lady Bird
5: BPM (Beats Per Minute), Good Time, Phantom Thread
4: Blade Runner 2049, Custody
3: I Am Not a Witch, Patti Cake$, The Meyerowitz Stories
2: Blade of the Immortal, I Don't Feel at Home in This World Anymore, Lady Bird, My Happy Family, Only the Brave, Pieles, Star Wars: The Last Jedi, Wonder Wheel
1: Aile Arasında, Atomic Blonde, Baby Driver, Beach Rats, The Beguiled, The Big Sick, The Boss Baby, Coco, Contratiempo, Darkest Hour, Downsizing, A Ghost Story, Girls Trip, Guardians of the Galaxy Vol. 2, I Am Heath Ledger, Icarus, Ingrid Goes West, The Insult, It, King Arthur: Legend of the Sword, Last Flag Flying, Last Men in Aleppo, The Lego Batman Movie, Logan Lucky, The Lost City of Z, Loveless, Loving Vincent, Marjorie Prime, Maudie, mother!, Okja, One of Us, Personal Shopper, A Quiet Passion, Split, Step, Stronger, Ten Meter Tower, Thank You for Your Service, Thor: Ragnarok, War for the Planet of the Apes, Win It All, Wonderstruck, The Wound
---
Değerlendirmeye aldığım filmler
Abacus: Small Enough to Jail, Aile Arasında, Alien: Covenant, All the Money in the World, Atomic Blonde, BabyDriver, Battle of the Sexes, Baywatch, Beach Rats, Beatriz at Dinner, Beauty and the Beast, The Beguiled, Berlin Syndrome, The Big Sick, Blade of the Immortal, Blade Runner 2049, The Book of Henry, The Boss Baby, BPM (Beats Per Minute), Brad's Status, Breathe, Bright, Brigsby Bear, Call Me by Your Name, Captain Underpants: The First Epic Movie, Cars 3, Casting JonBenet, Chasing Coral, City of Ghosts, Coco, Colossal, Columbus, Contratiempo, Crown Heights, Custody, Darkest Hour, Despicable Me 3, Detroit, The Disaster Artist, The Divine Order, Donald Cried, Downsizing, Dunkirk, England Is Mine, Faces Places, A Fantastic Woman, Fifty Shades Darker, First They Killed My Father, The Florida Project, Get Out, A Ghost Story, Girls Trip, The Glass Castle, God's Own Country, Good Time, The Greatest Showman, Guardians of the Galaxy Vol. 2, Happy Death Day, Heartstone, The Hero, Human Flow, I Am Heath Ledger, I Am Not a Witch, I Called Him Morgan, Icarus, I Don't Feel at Home in This World Anymore, An Inconvenient Sequel: Truth to Power, The Incredible Jessica James, Ingrid Goes West, The Insult, In This Corner of the World, It, It Comes at Night, I Tonya, İşe Yarar Bir Şey, Jim & Andy: The Great Beyond, Joshua: Teenager vs. Superpower, Justice League, Kedi, The Killing of a Sacred Deer, King Arthur: Legend of the Sword, Kingsman: The Golden Circle, Kong: Skull Island, LA 92, Lady Bird, Lady Macbeth, Landline, Last Flag Flying, Last Men in Aleppo, The Lego Batman Movie, The Lego Ninjago Movie, Let the Sun Shine In, The Levelling, The Little Hours, Logan, Logan Lucky, The Lost City of Z, Loveless, The Lovers, Lovesong, Loving Vincent, Marjorie Prime, Marshall, Maudie, Menashe, The Meyerowitz Stories, Molly's Game, mother!, The Mountain Between Us, Mudbound, Murder on the Orient Express, My Happy Family, Newness, Nocturama, Okja, On Body and Soul, One of Us, Only the Brave, The Party, Patti Cake$, Personal Shopper, Phantom Thread, Pirates of the Caribbean: Dead Men Tell No Tales, The Post, Professor Marston & the Wonder Women, A Quiet Passion, Raw, Risk, Roman J. Israel Esq., The Shape of Water, Pieles, Snatched, Song to Song, Spider-Man: Homecoming, Split, The Square, Star Wars: The Last Jedi, Step, Strong Island, Stronger, Summer 1993, T2 Trainspotting, Ten Meter Tower, Thank You for Your Service, Thelma, Thor: Ragnarok, Three Billboards Outside Ebbing Missouri, Tramps, Una, Victoria & Abdul, War for the Planet of the Apes, Wilson, Window Horses, Wind River, Win It All, Wonder, Wonderstruck, Wonder Wheel, Wonder Woman, The Wound